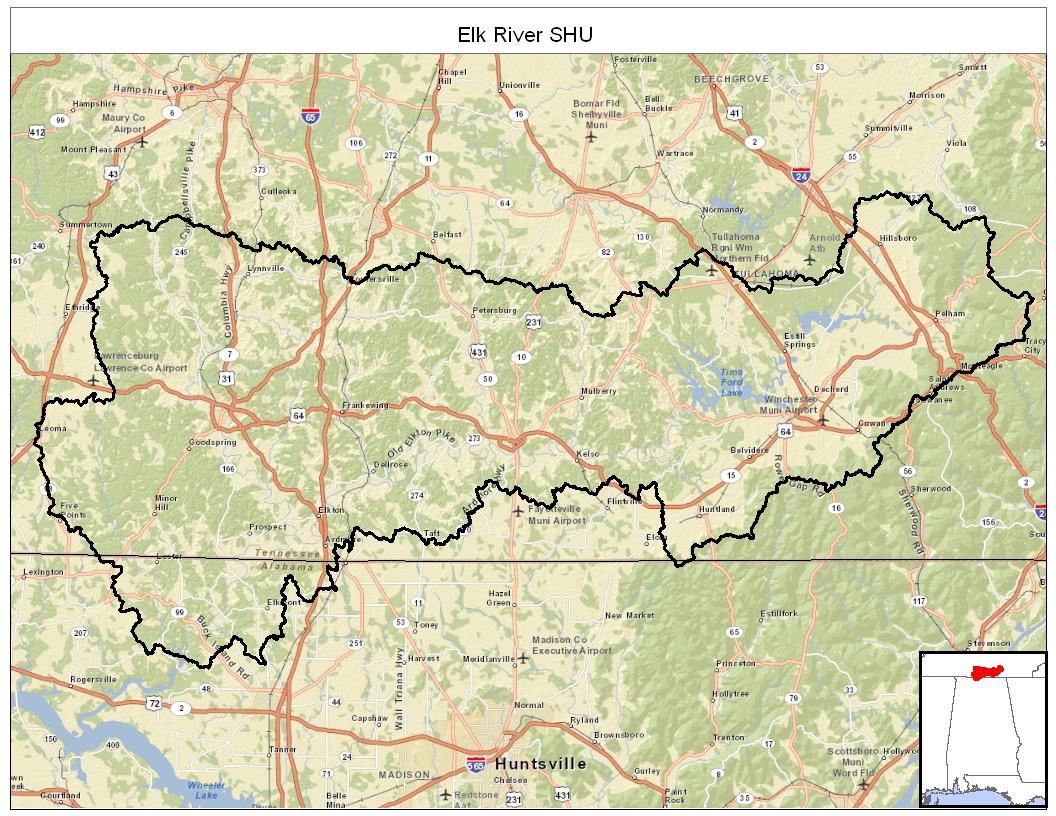 Watershed Size:
Approximately 2,131 sq mi / 1,364,122 acres
Location:
Lauderdale and Limestone Counties AL; Coffee, Franklin, Giles, Grundy, Lawrence, Lincoln, Marshall, Maury and Moore Counties TN.
Priority Species:
Fish:
Streamline Chub, Bluebreast Darter, Ashy Darter, Boulder Darter, Shoal Chub, Ghost Shiner, Mountain Madtom, Stonecat, Gilt Darter, Stargazing Minnow.
Mussels:
Snuffbox,Cracking Pearlymussel, Alabama Lampmussel,
Slabside Pearlymussel,
Black Sandshell
(H)
, Ohio Pigtoe
(H)
, Rough Pigtoe
(H)
, Tennessee Pigtoe
(H)
, Monkeyface
(H)
, Pale Lilliput
(H)
,
Mucket (H), Spectaclecase (H), Fanshell (H), Spike (H), Longsolid (H).
Snails:
Warty Rocksnail, Rugged Hornsnail.
(H)
= Historic (species historically occurred in the SHU or SRRU but, it has either not been collected in a number of years, and may be considered extirpated, or the species could be present but there aren't recent records to document its presence).